PaveCraft is one of the most renowned gravel driveway companies in Watford
Gravel & Shingle

Driveways

Watford

A time served team of driveway experts specialising in Gravel Driveways In Watford

Gravel Driveways Watford can come in a wide variety of colours and sizes and have a variety of uses - whether it is to give a new look to an existing driveway, path or patio or to enhance the appearance of a flower-bed or border. At Pavecraft Driveways & Patios Ltd, through our suppliers, we have access to all of the most popular and complimentary options and we would be happy to help you find the one most suitable for you.

All of our gravel jobs are installed with a Geo-tex membrane fitted underneath as standard, as this is necessary to prevent future weed growth. Any driveway or frequently used path or patio area, where strength is necessary, can be installed using an M.O.T stone sub-base with its own separate membrane to prevent future sink-age.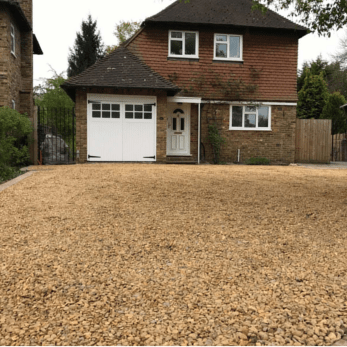 PaveCraft Are Much More Than Just Gravel Driveways in Watford
Pavecraft Driveways & Patios Ltd are one of the most renowned Gravel Driveways experts in Watford. We do however cover other services in the Watford area which include:
We have 140+ Reviews on Trust A Trader!
Read Through Our Reviews To See Why We Are One Of The Most Trusted Gravel Driveway Companies In Watford