Driveway Installations
St Albans
Pavecraft Driveways & Patios Ltd is one of the most renowned Driveway companies in St Albans - A time served team of driveway experts specialising Block, Resin & Tarmac Driveway installed in St Albans
New Driveway Cost & Quote

St Albans

Block paving or Resin are some of the most popular materials for drives and paths at the moment.
They arecost effective, durable and can be laid in many patterns, colours, styles and finishes. It can also be easily maintained, and in cases of stains and damage, individual blocks replaced.

We use a high quality paving blocks or aggregates as standard from the leading manufactures such as Marshalls, Stonemarket, Brett, Hanson, Bradstone and Natural Stone Paving. These products are constructed to the highest industry standards and will look stunning for years.

Pavecraft Driveways & Patios Ltd install Resin Bound, blocks, or paving sets, and have the creativity to ensure you have a driveway, patio or path that is the envy of your whole neighbourhood.
Have a look at other driveways we've installed: Paving Gallery
Driveways Near Me St Albans
Block Paved Driveways
Patios
Paths
Walk ways
Porches
Office entrances
Borders
Roads
Entranced to Retail Parks
Forecourts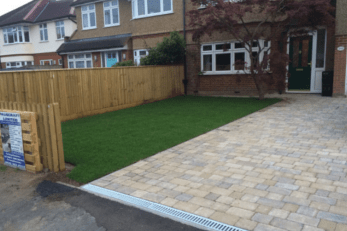 Not Just Any old Driveway, Not Just St Albans
Pavecraft Driveways & Patios Ltd specialise in providing more services than just block paving in St Albans. Our expertise and our ever growing team means we are able to cover more areas and services than ever before!
Tarmac Driveways St Albans
Patio Installations St Albans
Gravel Driveways St Albans
Resin Driveways St Albans
Fencing Repairs St Albans
PaveCraft Are Much More Than Just Block Paving in St Albans
Pavecraft Driveways & Patios Ltd are one of the most renowned Block Paving experts in St Albans. We do however cover other services in the St Albans area which include:
We have 140+ Reviews on Trust A Trader!
Read Through Our Reviews To See Why We Are One Of The Most Trusted Block Paving Companies In St Albans