Pavecraft Driveways & Patios Ltd are complete experts when it comes to installing a new driveway to the highest standards. Our family run business has been in this industry for many years. We offer a comprehensive service from design and planning straight through to completion. We carry out all of the work ourselves and do not rely on outside contractors. You can rest assured your driveway will be in safe hands and the works will be conducted in a professional and timely manner at all times.
Our goal is to build you a stunning driveway that is built to last.
Tarmac
Driveways
Tarmac is a popular hard standing material to use when constructing your driveway, paths or parking areas for many reasons. It is durable and hardwearing, is flexible to use, comes in a variety of colours and is normally a tarmac drive has a lower installation costs compared to other driveway materials.
As a family business we pride ourselves on the quality of workmanship and reliability of service, which is why we get told by our customers we are the best tarmac contractors in Watford. All our team have an extensive knowledge when it comes to laying a good tarmac driveway.
Tarmac Services Include:
Driveways
Paths
Forecourts
Car Parks
Tennis Courts
Play Areas
Roads
Gardens
Skate Parks
Factories
At Pavecraft, we are expert installers of tarmac, from the design and planning stage to completion and we are happy to undertake anything from driveways, paths, private roads, school playgrounds, tennis courts, forecourts and car parks. Our team can install a wide range of tarmac/asphalt surfacing and gravel surfaces to suit every requirement, from decorative domestic driveways and paths to heavy duty trafficked areas for commercial use.
We are fully insured and unlike other companies and offer a 10-year product guarantee and 5 year installation guarantee on all orders.
Ask our experts for more information by calling Watford 01923 883684 for a free no obligation tarmac surfacing quotation.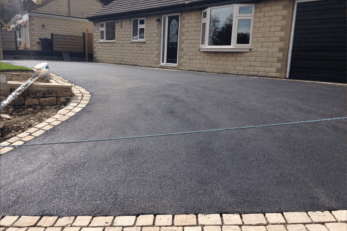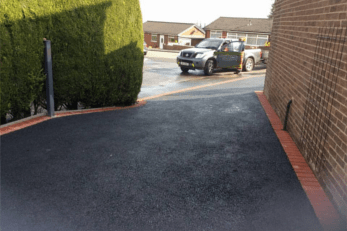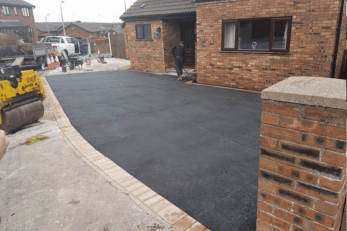 Block
Paved Driveways
Block paving is especially good for driveways because it is flexible, very decorative, hard wearing, non-slip and low maintenance and it can be used almost anywhere around your property. With a wealth of driveway ideas, our block paving can be set as a feature on your patio, create a consistent look when used on paths around your home or beautiful edging to resin, tarmac or gravelled areas to your Watford home.
The main benefit of having a block paved driveway over other materials is that individual bricks can later be lifted up or replaced should they become damaged in any way, rather than having to have the whole driveway re-laid.
By adding a block paved driveway to your property, which has been well designed by our team, you can increase the value of your home substantially whilst also giving your property character and kerb appeal, whether you are staying put or looking to move in the near future.
Block Paving Services Include
Block Paved Driveways
Patios
Paths
Walk ways
Porches
Office entrances
Borders
Roads
Entranced to Retail Parks
Forecourts
We can create a fantastic driveway for you using different sized block paving, colours, textures, patterns and intricate designs. Pavecraft Driveways & Patios Ltd will also provide guidance and advice on the finishing touches which will complete the overall look of your driveway such as steps, lighting, edgings, kerbs and drainage requirements.
We use a high quality paving blocks as standard from the leading manufactures such as Marshalls, Stonemarket, Brett, Hanson, Bradstone and Natural Stone Paving. These products are constructed to the highest industry standards and will look stunning for years.
Unique driveways installed in Watford by Marshall approved and accredited contractors.
Our family run team are friendly, efficient and punctual and will arrange everything from design and planning to the completion of your driveway.
Apart from designing and laying new block paving, Pavecraft Driveways & Patios Ltd can also help with any restoration of existing driveways, whether block paved or not, bringing them back to their former glory.
We are fully insured and unlike other companies and offer a 10-year product guarantee and 5-year installation guarantee on all orders.
Ask our experts for more information by calling Watford 01923 883684 for a free no obligation block paving quote.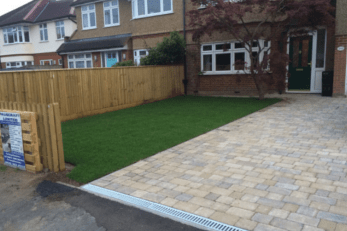 Resin Bound
Driveways
Proving to be very popular over the last few years - Resin bonded/bound surfacing. It is a mixture of naturally sourced stones and a strong durable UV stable resin. Once the stones and resin is mixed, it is then poured and hand trowelled onto the driveway, paths, patios, forecourts, car parks to create an attractive, seamless, strong and smooth finish. Our experience team at Pavecraft Driveways & Patios Ltd can design, manufacture and install a Resin bond / bound driveway using high quality UV-stable resins and a special blend of aggregates.
The results are outstanding, have a look at our Gallery for pictures of the beautiful finish and durability that can be achieved using this type of material and installation.
Our naturally sourced stones are a mixture of aggregates including gravel, shingle, quartz and crushed granite. The stones can be angular or smooth and come in a variety of sizes, from 1mm to 5mm pieces. They are also available in an array of colours, either a single colour or a blend of a few colours.
The main use for resin bound is for driveways, car parks, pathways, terraces, courtyards and swimming pool surrounds or in fact anywhere you require a hardstanding area with a beautiful finish.
Stunning effects can be achieved because of the flexibility of this product and the endless possibilities because of the colour combinations. Our resin bound driveways are expertly designed, installed and hand finished by our team.
Reasons to choose a resin bound driveway:
Perfectly smooth finish
No joins
Hard wearing
Anti slip
Many colour combinations of stones
Create unique borders, curves, patterns and shapes
Colours will not fade because of UV stable resin
Resistant to petrol, diesel and oil
Resistant to weed growth
No loose stones
Permeable surface
Quick to install
Low maintenance
Eco friendly
We are fully insured and unlike other companies and offer a 10-year product guarantee and 5-year installation guarantee on all orders.
Ask our experts for more information by calling Watford 01923 883684 for a free no obligation Resin Bounded Quote.
Gravel & Shingle
Driveways
Gravel Driveways can come in a wide variety of colours and sizes and have a variety of uses - whether it is to give a new look to an existing driveway, path or patio or to enhance the appearance of a flower-bed or border. At Pavecraft Driveways & Patios Ltd, through our suppliers, we have access to all of the most popular and complimentary options and we would be happy to help you find the one most suitable for you. All of our gravel jobs are installed with a Geo-tex membrane fitted underneath as standard, as this is necessary to prevent future weed growth. Any driveway or frequently used path or patio area, where strength is necessary, can be installed using an M.O.T stone sub-base with its own separate membrane to prevent future sink-age.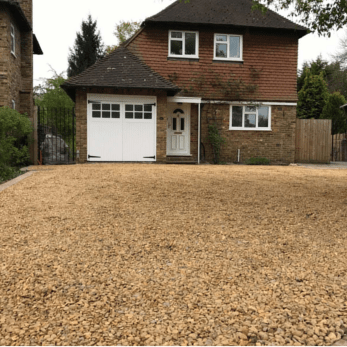 We have 140+ Reviews on Trust A Trader!
Read Through Our Reviews To See Why We Are One Of The Most Trusted Driveway Companies In Watford